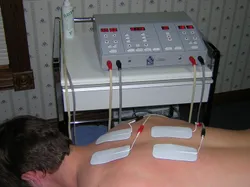 Interferential Electro-Therapy is an excellent way to help the body in the healing process. It uses a safe, gentle low electric current which is applied to muscles that are tight and painful. The therapy utilizes this current in an effort to help reduce swelling and release trigger points that may have the muscle locked up.
It does this by causing muscles to twitch slightly during treatment, making the muscles fatigue and relax by the end of treatment. By relaxing the muscles adjacent to the spine, the vertebrae are allowed to move more freely, thus helping to relieve pain and nerve irritation. It also helps the body to release natural pain relievers often referred to as endorphins.

The feeling of this therapy is very light and most patients feel very comfortable during the treatment.