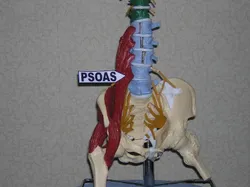 The Psoas is the muscle that is the key to your structural stability.
Buried deep within the core of your body, the psoas (pronounced "so-az") is a bridge linking the trunk to the legs. The psoas is critical for balanced alignment, proper joint rotation, and full muscular range of motion. In backbends, a released psoas allows the front of the thighs to lengthen and the leg to move independently from the pelvis. In standing position and forward bends, the thighs can't fully rotate outward unless the psoas releases. Whether you suffer from a sore back or anxiety, from knee strain or exhaustion, there's a good chance that a constricted psoas muscle might be contributing to your woes.
A healthily functioning psoas provides a sensitive suspension bridge between the trunk and the legs. Working properly, the psoas functions like the rigging of a circus tent, stabilizing your spine just as guy wires help stabilize the main pole of the big top. In addition, the psoas provides a diagonal support through the trunk, forming a shelf for the vital organs of the abdominal core. In walking, a healthy psoas moves freely and joins with a released diaphragm to continuously massage the spine as well as the organs, blood vessels, and nerves of the trunk. Working as a hydraulic pump, a freely moving psoas stimulates the flow of fluids throughout the body. And a released, flowing psoas, combined with a stable, weight- bearing pelvis, contributes to the sensations of feeling grounded and centered.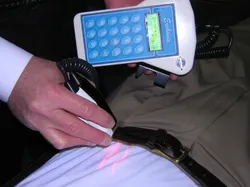 Using cold laser therapy, Dr. Petersen can gently treat and correct the psoas muscle dysfunction. With a properly functioning psoas, the bones bear weight, the muscles move the bones, and the joints function smoothly.